Did Someone Say Roadtrip??
Adventure: The Maven Experience
It is scientifically proven (or we'd assume so) that road trips are good for the soul. And being from Detroit [where we experience less than appealing temperatures majority of the year], we absolutely live for the summer months in the mitten.
Our motto isn't "Great Lakes, Great Times" for nothin!
With the Michigan Summer just heating up, Thrillist knew j'adore Detroit would be up to the task of adventuring to one of their "Nine Coolest Day Trips to Take from Detroit" and doing so in any GM car of my choice in the Maven fleet.
I picked the most "out of my comfort zone" adventure to the Alligator Sanctuary in Battle Creek. That was one I had no idea existed, which as a purveyor of the splendors of Michigan, of course drew me to it. Plus - they advertise that you get to hold a little alligator!
I knew just who to snag; long-time best friend since pre-school - Tara Karebian. When we are together - anything is an adventure, so you better believe that with a brand new, connected car with wifi, Apple Car Play, On-Star advisors, and no-hassle on the road coverage (fuel, insurance, etc), we were ready to set out on the open road.
Picking up the Maven for the first time was a breeze and you are always connected from your mobile device [yes - crazy I know!]. The Maven app actually is the key to the vehicle and is activated at the time of your reservation. The car options were expansive and the app is super easy to navigate from the time of booking to returning the vehicle. If you haven't yet tried out Maven - it is a connected, seamless, car sharing experience with a full fleet of various sizes of GM vehicles to fit any need or lifestyle. There are pick up locations throughout Detroit and Ann Arbor - making it very easy to rent a car - hassle-free - for an hour or for days. Car sharing makes it easy to pick up and go in the summertime and get out of the city or spend the day in the city - the beauty is - you choose.
Right off the bat, we CHOSE to waste no time and check out a new spot Fred's Ann Arbor. It did NOT disappoint. We had an amazing breakfast burrito that was to die for [pro tip: try the homemade hot sauce], Acai Bowl [just as delicious as the ones I get in Bali if that says anything], avocado toast, and turmeric hummus for good measure to get our engines running [pun intended].
The design aesthetic is very clean, bright, and playful. Fred's has the perfect amount of mixed patterns, colors, and textures that visually alone, I want to keep coming back - but the food though. I could live there. The Maven was just outside waiting for us to embark on our coolest of day trips by Thrillist.
ADVENTURE: CRITCHLOW ALLIGATOR SANCTUARY
Critchlow Alligator Sanctuary is run by a lively family and their staff of upbeat reptile lovers. David Critchlow, who happened to be our tour guide for the day, purchased the land to build the sanctuary for crocodilians and other reptiles and amphibians. It is a safe haven to allow for the proper care of these beautiful animals to live their lives in a place they can call home.
All animals are brought to the sanctuary from less than desirable situations and are rehabilitated. None of these animals are able to return to the wild based on their life circumstances, so by allowing them to find refuge with the Critchlow's in Athens, MI- they are able to be studied and Mr. C is able to provide a hands on experience unlike no other within 1000 miles (give or take).
Tara and I decided we wanted the full experience [go big or go home when in Athens]. The full experience consists of the Godzilla feeding experience, bearded dragon animal encounter, small snake animal encounter, and small alligator animal encounter.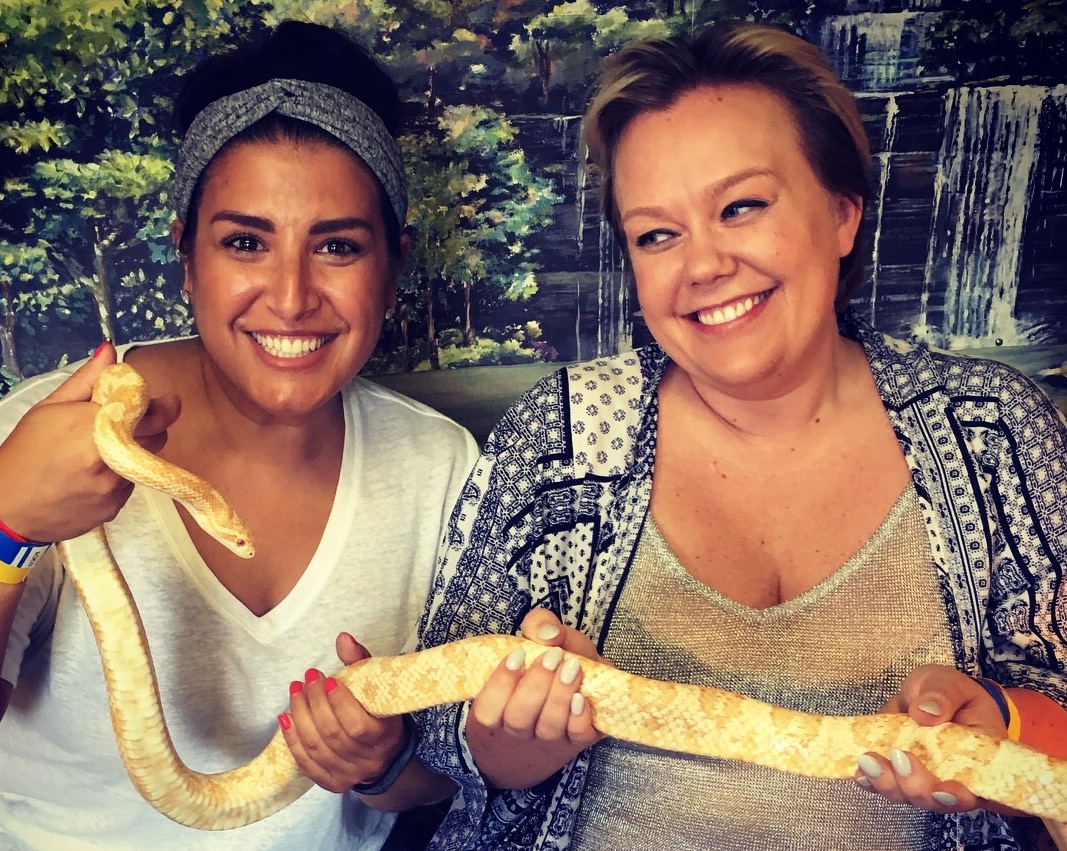 HIGHLIGHT: Godzilla Feeding Encounter - Godzilla is a 30 year old, 10 foot long, 350 lb alligator and lives with his two girlfriends- Medusa and Chuckles. We got up close and personal with Godzilla and his gals and fed him. We learned all about these quick and majestic creatures. Godzilla will be upgrading his house next year so he will have plenty more room for his ladies.
The photos and video of this portion of the adventure are pretty classic. The grounds are split up by size of Alligator: Elementary School (3-5 year old gators), Middle School (adolescent gators who are starting to learn and master their social behaviors), and High School (where the gators learn their names, colors, objects, and how to respond to situation - some of them even talk).
Elementary School:
It was very interesting to learn how the gators learned these behaviors. Some of the special needs alligators rely on these techniques to get them healthy enough to be introduced into the gator schools. Hearing all of the stories about the special gators and where they came from is very heartwarming to know they are in a wonderful habitat now instead of being abused in homes around the country.
Q & A: Do you know the difference between an alligator, crocodile, and a caiman? (See our video footage of Mr. C explaining the difference).
We highly suggest any children or adults to visit the sanctuary to learn in a fun and interactive way. My personal fave of the day was getting a boomerang with an alligator. Who can say they've done that?
ADVENTURE: STOPS IN KALAMAZOO, THE BLACK OWL
This is our favorite find. Breakfast was just what the doctor ordered with Huevos Rancheros and an all American style breakfast for Tara with delicious veggie sausage.
The vibes were on point and the beverages were even better. The coffee menu and specialty sodas were amazing [lavender lemonade soda - YES]. The iced coffee was the best I've had in a while - balanced and with some hazelnut flavor. In fact, they exclusively serve Kalamazoo Coffee Company beans roasted in the building.
We love to support local and it's nice to get outside of Detroit and enjoy the comforts of Kalamazoo for a change.
SWEET WATERS DONUT MILL - Because - DONUTS. We love donuts and this place is open 24 hours! We tried a key lime donut filled with the most delicious key lime custard and can't stop thinking about it. Some of the donuts were as big as our heads. We will be back for you donut mill - you haven't seen the last of j'adore Detroit.
ART HOP - We stumbled across this at random. Art Hop is a free event held on the first Friday of every month. It is an evening of art-focused events and exhibits throughout the downtown. You can walk into any store and strike up a conversation as everyone is just hanging out in the stores shopping and engaging in fun, interactive activities (and sales!)
ESTATE SALES + CORN FIELD MAZES - when we are out in the country, sometimes we just want to get out in nature and wander, so we pulled over often to make sure we got the fill of our garage + estate sales and expansive views of the horizon while jamming to the Maven sound system!
-XOXO J'adore Detroit